Top 9 Principles For Website Design
Choose the best website design company.
With the increasing technology and use of digital platforms, websites have become an integral part of a business. We have some principles for website design. Launching a new website is a hard task as it requires perfection and attractive features for the users to have a great experience while using it.
1. Find the one who listens to your goals and ideas to detect relative designs
A website is a way of marketing your company and you need to make a crucial decision while choosing a web design company. A wise businessman will always understand that this job is done in the best way by the professionals and hiring one will give them peace of mind and the best work on time. But before choosing any company for getting a good website along with the digital marketing strategy for a brand you should consider the following points:
You must be knowing your business more than anyone and you must have some ideas of how your product should be presented to your customers. And if the web designer does not listen to your ideas then you should not go to them.
The designers should understand your goals and objectives so that you get the right marketing techniques into action and get products and services reach to your customers.
They should give support and expand your ideas this will be challenging and explore better strategies for designing a website from scratch. Your website should be designed to have all the required features for the convenience of its customers.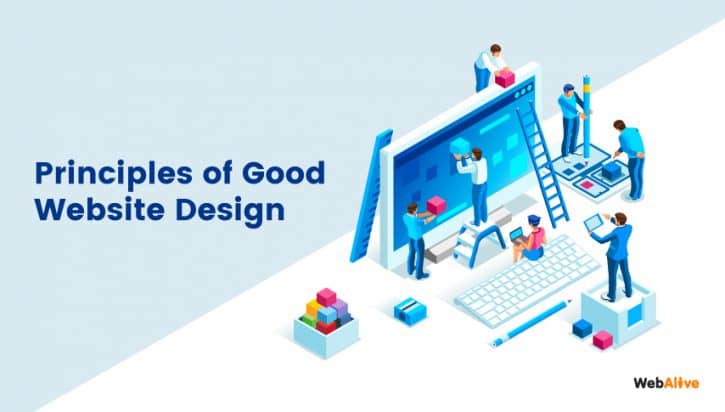 2. They should have a strong marketing team with them
The companies that have a marketing team with them should be your first choice to hire as your website designer. A web design agency that doesn't have a marketing team is like a computer without an operating system that is it will never run or do any operations for you. For your website to run successfully should have active digital marketing strategies.
It is not enough for your website to look and have a good appearance but also give you results to have more and more customers attracted to your website. So an agency along with developers and designers should also have a marketing team that has complete knowledge of how to create a digital marketing strategy to let your brand grow successfully.
3. The simple yet effective user-friendly web design
A responsive website is always helpful for a brand to provide convenience to their customers while surfing on their website. You should also make sure that the website which gets designed is optimized for different types of devices. Mobile phones have become the prime requirement of the day. People do shopping, book movie tickets, book train, and flight tickets watch movies, etc on their mobile phones more than laptops. So you should make sure your website is responsive to all mobile devices.
If the agency doesn't offer you to have a responsive design that supports various platforms then you should probably find some other agency that can help you. The right digital agency will let you have a responsive website that can make your business grow no matter on which platform your customers are using your website.
When you start thinking to develop new website you must the principles for website design
4. You should prioritize studying their portfolio
When you have big expectations from a marketing company then you should first study their portfolio before hiring them. You should read the reviews of the brands or ask other people for whom they have worked to know how experienced and skilled developers the agency has. Don't simply trust the screenshots of the website and hire someone based on genuine reviews.
They should meet the general requirements of their clients that are increasing traffic, attracting more leads, etc. You can also ask for the statistical growth of their work to know them much better and take their help for the designing of their website.
5. It is significant to check if they are familiar with all types of industries.
For a big or a small company all, it matters is that behind all types of industries a designer should know how to do digital marketing at its best for designing the best websites.
Your designers should have work experience with local as well as national companies to provide you with productive results.
Your website should also have the latest modern trends as this will gain the trust of your customers and they like to visit your website and also buy your products and services.
Want to know Principles for Website design read blog full
6. They plan and implement a unique big picture
About fifteen to twenty years ago 5 were very few people were aware of something like the internet. But when we see today's digital world there is nothing more interconnected than this.
Considering all the aspects of today's digital era, a web developer should design a website in a way that has a complete understanding of the digital space so that they can build a website considering the big picture in their minds. The web designer should know the following:
What is the difference better off-site and on-site SEO
The traffic and ranking differentiation
citations helpful for you or can hurt you
What is link building, etc
When your designer knows these basic strategies it becomes much more effective in building the best website and you can be assured to have the best result for your brand.
Principles for website design in the most improtant part
7. They follow a documental process for significant success
When there is a successful web design company they believe in having a clear and simple discovery process.
Documentation helps in applying the strategies successfully and achieving your business goals. A systematic plan will never fail in different circumstances though it may get tweaked to a small extent if required in the most crucial instances.
For a documented process it is required that your web designer has good experience as a designer and brings significant success to your business.
There are many things to remember while hiring a website designer. And we at Saksham Designs with our highly experienced designer have helped many people in having their website designed with all the latest features and amazing interface for helping our clients to grow their business successfully.
The search for the best digital marketing company in Meerut for web designing ends here and also want to know the Principles for Website design.
Principles For Website Design
A website should be designed in a way that its intended functions are fulfilled along with conveying the required message whilst engaging the visitors of your website simultaneously. The necessary factors of website design include colors, consistency, imagery, simplicity, typography, and also unique functionalities.
Thus, there is not one but many essential factors to consider while designing a website to engage the visitor. With a well-designed website, you can gain the trust of your visitors and guide them to take the appropriate action.
when you think to create or designs a new website you must know the principles for website Design.
For better user experience you need to optimize your website for easy functionality and usability and who can better help you than a digital marketing company? They know how a website should be designed by implementing the right functionalities and helping your business grow with all the essential factors.
Now, to provide you with a little help here are some of the principles of website designing which can guide you on what to expect in a website to make it successful over the internet.
1. What is the unique purpose of your website and principles for website design?
The first purpose of your website should be to accommodate the user's needs. A clear intention on your web pages will make it easier for visitors to understand what you can offer to your clients. Is your website offering practical information? Is it an entertainment website with coverage of different events? Is your website selling products? Or to design software? There could be many different purposes of a particular website.
But for any website, it is essential that it build a high reputation of your brand in the market, generate more leads, describe expertise, and have easy payment and customer care services.
2. Simple Design is Essential
When it comes to user experience simplicity is the thing that is liked by everyone. You can have the best design of your website with:
Colour:- With colors there can be emotional responses and gives messages to the visitors. A customer's behavior depends on the type of color palette you use on your website. Don't take more than 5colourss and remember they should be pleasing enough to make the user feel good and have a proper engagement main principles for website design.
Images:- Images communicate more than words with your customers so your website should have the proper use of them. There could be still photography, videos, various graphics, and even illusions to give an impression of a personal touch to the visitors of the website.
Type:- With typography you can have a visual interpretation of the voice of your brand. There should be only 3 different fonts on your website to make it easy to read the content for the visitors.
With website navigations, a customer can easily interact with your brand and find out the things which they are looking for. With easy website navigation, you can retain your visitors. When the website navigations are hard to understand the visitors will try to visit some other website hatch that is more comfortable to use. Thus, it should be consistent and intuitive on all of your web pages.
4. A powerful visual hierarchy is required
In order of importance, the elements should be placed on a website that is nothing but a visual hierarchy. The basic factors of this placement include imagery, typography, color, size, texture, and also style. Visual hierarchy helps the customers to reach the most important information quickly and easily.
5. A powerful layout is always based on the grids
If you want to have an organized website then the structure of your website should have a grid-based layout. With grids, all content on your website is aligned and clean which gives it a pleasing look.
6. The website is needed to be mobile-friendly
We all use our mobile phones more than anything which is why having a mobile-friendly website is essential. The experts of a web designing company can build a responsive layout that can adjust your website to different screens.
7. It is valuable for a website to have a faster load time
When the load time is quick the visitors don't have to wait for long to find the things which they are searching on the internet. It is expected the website should not take more than 2 to 5 seconds to open. When you optimize your website with the help of a digital marketing strategy for a brand that works the best when implemented by professionals.
We at Saksham designs, provide you with what is required for your brand to grow through a well-designed website. We have a team of professionals who are skilled and give their 100% for achieving our client's business goals and objectives.
What is content writing and what are the 5 tips for avoiding mistakes in content writing?
The 21 benefits of SEO for business
What is Digital Marketing and how its help you grow your career from 0 to 10?